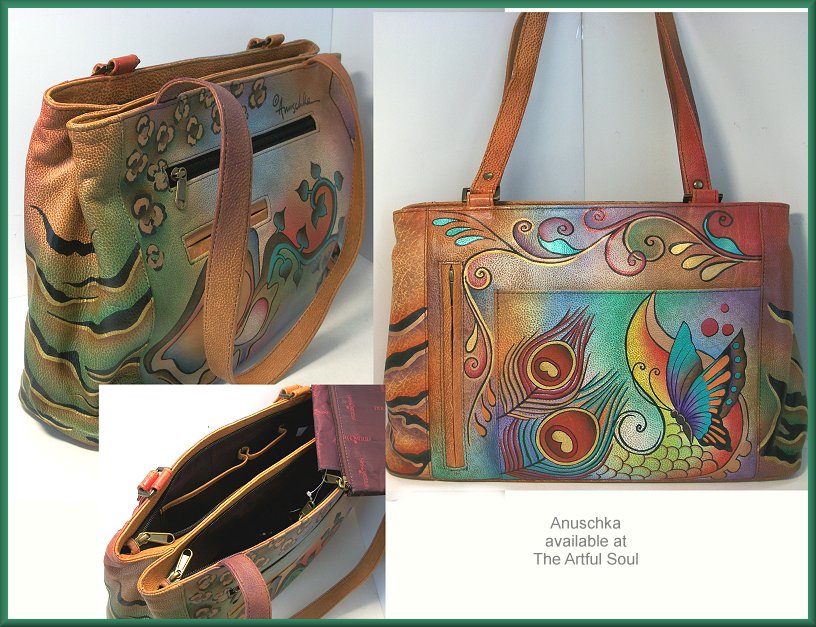 $249.00
Anu1s.449col

Sized and shape for work, shopping, and everyday life. Measures 15 x 10 x 4 inches, the flat rectangular base does not have feet. The yummy soft pebble texture leather is handpainted on background of saddle tan, the butterfly, peacock and animal safari motif colors are bright red, yellow, purple, teal green, gold, and black. On the back is cell phone slot pocket and zipper pocket. On the front is open pocket with magnetic snap closure, and another zipper pocket that extends horizontally full length. This bag is divided into 2 compartments with separate top zipper access. Each is lined in Anuschka signature burgundy fabric. One section has 2 open pockets and a zipper pocket with ID panel. The other section has a zipper and open pocket. Comes with signature fabric eyeglass case and coin purse. The dual straps are 24 inches long and comfy 7/8 inch wide, they do not adjust in length.
Click here if you need to find full artist page again!



Anuschka Collage Divided Zipper Bag

1

Average rating:

|
Read all reviews
Featured positive reviews:
Anuschka Collage Divided Zipper Bag

Best Bag Ever
08/16/2013
I love interesting bags, and usually don't change bags every day. This bag is beautiful, distinctive, holds everything I need, keeps me organized. I can even put my tablet in it with zipper closed. Love zipping up my wallet in one part, and keeping the other compartment open for less valuable and handy things. I haven't used all the pockets available, but they are probably useful.


All images, text, code and logo on this website are the property of The Artful Soul,
and cannot be copied or used without our express written permission / www.artfulsoul.com