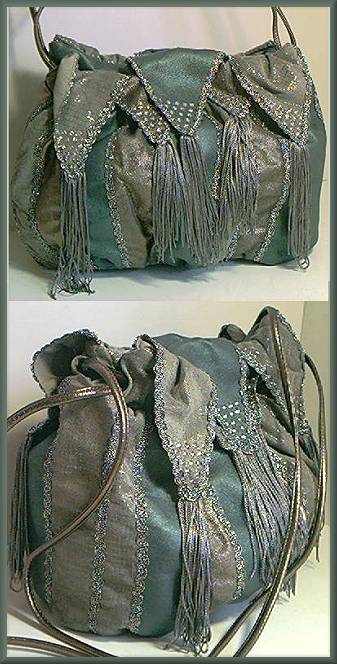 $302.00
MyL1d.lgskygrytl

Nice roomy shape of bag, the large Sky Rocket has a 9.5 x 4 inch oval bottom of soft embossed gray suede leather, then panels of different leathers are tucked and gathered to billow outward about 12 x 6 inches toward center, 8 inches tall...but this all varies with the shapes of your personal items! Leather panels include gray suede with silver threads pattern, metallic platinum, satiny dark teal green. Between each panel is ribbon and braid of sparkling dark silver. The top inside edge is soft gray suede leather, that has platinum leather straps running through it so it can be gathered closed. Draping over the top edge are the triangular leather strips, all edged in ribbons, and studded with prong-set Swarovski crystals in clear color. At the end of each triangle is a soft tassel of gray silk threads. Bag closes with center magnetic snap, lined in black inside with small zip pocket. Two 36 inch platinum leather shoulder straps.
Click here if you need to find full artist page again!



Mylinka Large Sky Rocket in Gray/Teal

1

Average rating:

|
Read all reviews
Featured positive reviews:
Mylinka Large Sky Rocket in Gray/Teal

I Love My Bag!
03/30/2015
I bought my first Mylinka bag which is this one many years ago at Tara's Merle Norman in Lexington, SC. I just purchased another one which is red and blue from Savannah Belle Botique in Savannah, Ga, it is beautiful, and I am getting a gold one also. These bags totally rock. They are all one of a kind, and they are beautiful! Can't wait to see what I get next!


All images, text, code and logo on this website are the property of The Artful Soul,
and cannot be copied or used without our express written permission / www.artfulsoul.com