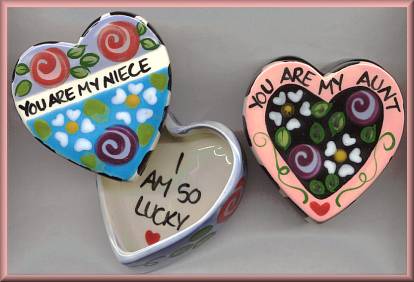 $0.00 $0.00 On Sale!
Outlet35.ce1101
Heart-shaped box by Csara Shubin of Rainy Day Clay. The patterns, colors and layout will vary from the example shown here. The words are You are my ... on top, then I am so lucky on the inside.
Choice of 3 sizes and prices: Small 3 inch $37, Medium 4 inch $43, Large 5 inch $45. Your order is limited to stock on hand of any particular relationship.
Final Sale-No Return
Click here if you need to find full artist page again!
·

Csara Large Heart Box - Wife


$45.00 $18.00 On Sale!




All images, text, code and logo on this website are the property of The Artful Soul,
and cannot be copied or used without our express written permission / www.artfulsoul.com