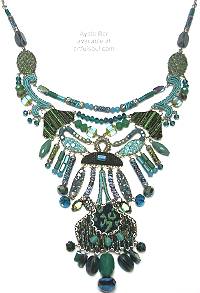 Ayala Bar Mediterranean Ocean Necklace
$442.00
$353.60
On Sale!
ABs2n.139613f16


Wonderful showpiece necklace that will cover a lot of neckline. The colors are richly saturated turquoise, teal and emerald. Mixed fabrics offer texture, sparkle, and pattern interest. Cords fill curving shapes and wrap into tubes. Toward the middle center are sweeping mosaic shapes that have crushed glass at the end of cube glass beads. A bead strand drapes across the top of the main design area, where all pieces are joined by multiple jump rings to stay in amazing design.
Finished adjustable length: 15-18" on steel chain
Front design span: 10"
Center front length: 4-1/2"
Mediterranean Ocean collection features rich turquoise, green and teal in uncovered fabrics, iridescent glass, fabric cords, and sparkling crystals. Not all colors appear in every piece.

Reviews for Ayala Bar
Reviews for Ayala Bar
19
Average rating:




Read about what others think of Ayala Bar jewelry! Instead of reviews for a specific product, this is a place to share about the designer line in general.
Do you own items by this designer already? Then please tell others how it wears, what you like or don't like about it, if you are a fan!
To get started, click on the icon image