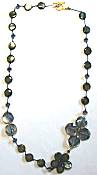 Sun Designs Navy Offset Flower Necklace
$42.00
Sun1m.cn55012


Navy blue silk cord is knotted around the elements creating a breezy style packed with interest! 17 inches long, golden toggle clasp. There are 2 golden wire-wrapped flowers, the largest is about 1-1/2 inches across. They are made with sparkling round cushion faceted crystals, and mother-of-pearl that has been dyed and striped with delicate black lines. Another pair of crystals offsets the flowers to the other side, and then all the shell and smaller crystals trail to the back. The colors are navy blue and charcoal gray.
Yoolie's Magic Carpet Earrings
$25.00
Yool1v.2412001
[ Out of Stock ]

Simple laser cut stainless steel shapes, ultra lightweight, in a style that is flattering on almost every gal. Patterns under clear acrylic domes are accented by tiny color crystals.
Colors featured are navy blue, aqua, ivory and coral red.
Total length: 1-1/4"
Greatest width: 7/16"
Surgical post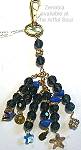 Zenobia Lina Lina Navy Purse Charm
Znb1e.pce


8-1/4 inches long including goldtone clasp. The colors are navy and sapphire blue. Golden charms of enamel flower, crystal stars and flowers, coin and hand-made, rhinestone clusters.