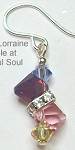 Susanne Lorraine Neutral Short Earrings
$28.00
SUL1f.etrxnude


1-1/4 inches long including sterling earwire, 1/4 inch across but staggered. Four bicone shapes are cleverly joined with square clear studded spacer to do staggering magic! The sparkling Swarovski crystal colors include pastel yellow, pink and lavender.

Tutu Flower Earrings Pastel Mix
$21.00
Tutu1r.a8


Fun and lightweight flower earrings made with manmade resin flower caps in a translucent frosty finish, glass beads and crystals. 1-3/8 inches long including silverplated leverback earwire, 5/8 inch across, this design has turquoise, apple green, marigold yellow and birght rose pink colors.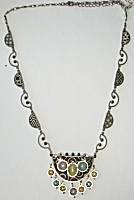 Yoolie's Black N White Necklace
$184.00
Yool1m.2432711


Longer necklace with lots of geometric interest, and love the pairing of black-and-white patterns with pastel colors. The stainless steel cut elements are light, joined by jump rings to curve around any neck, tiny hematite gray crystals dot each one.
Colors featured include black, white, pastels of yellow, aqua and lavender.
Length on stainless chain adjusts 20-24"
Design span along front: 13"
Center front height: 1-5/8"

Yoolie's Blue Haze Earrings
$49.00
Yool2f.2415201


Pattern under clear acrylic dome is mainly soothing vanilla background, so the little crystals in pacific opal and champagne offer more color. Lasercut stainless steel shapes are joined by single jump ring.
Colors featured are vanilla, pale aqua.
Total length: 1-1/4"
Greatest width: 5/8"
Surgical post

Yoolie's Mint Splash Earrings
$32.00
Yool1u.2412501


Lightweight stainless steel, lasercut into the almost simple shapes. Filled with patterns under clear resin, accented by tiny crystals and beads.
Colors featured are aqua, brown, orange.
Total length: 1-1/4"
Greatest width: 1/2"
Surgical post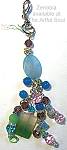 Zenobia Lina Lina Pastel Purse Charm
Znb1j.pcj


9-1/4 inches long including goldtone clasp. The colors are pastel aqua, green and lavender, purple. There are two large gemstone pieces in watery shades, crystals and art glass, flower charm and crystal cluster balls.