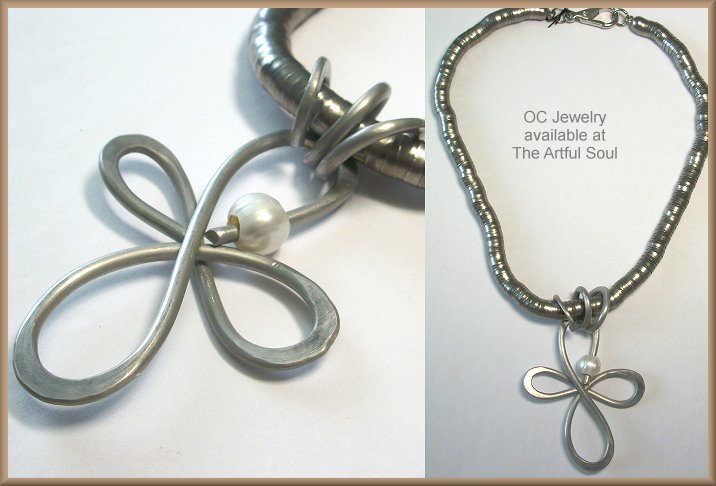 $66.00
OC1a.nkl134p

Pendant is approximately 3 inches long, 2 inches across, aluminum has been twisted and hammered into the pretty shape, a large white pearl accents the center. Suspended by a curl of more aluminum from the substantial 5/16 inch thick chain that is flexible, aluminum "cups" are stacked on wire for an organic but lightweight look. 17 inches long. Extralarge lobster clasp in back. You could remove the pendant to wear separately. This is finished with pewter color.
Click here if you need to find full artist page again!



OC Santa Cruz Necklace in Pewter

1

Average rating:

Write a review
|
Read all reviews
Featured positive reviews:
OC Santa Cruz Necklace in Pewter

Wear it a LOT
01/15/2014
I've enjoyed my necklace for several months, I find I choose it so often because the chain is substantial looking, has "body", but doesn't weigh much. The pendant is striking too, mostly keep it on the chain and wear together. Have the matching earrings, wear them even MORE because they are a nice soft silver gray that goes with a lot.


All images, text, code and logo on this website are the property of The Artful Soul,
and cannot be copied or used without our express written permission / www.artfulsoul.com