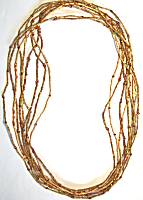 Zulugrass Peach Set of 9
$72.00
ZG1e.peach


9 strands of 27 inch Zulugrass. On VERY STRONG elastic, the natural grass is dried, dyed, and joined with glass beads. Wear all 9 strands together as a necklace slipped over your head, or twist them into bracelet, anklet, hair tair, join together around the waist or a long necklace.
The colors are golden tan, peachy pink, light orange melon, sand.

Orna Lalo Aqua/Green Nuggets Bracelet
$67.50
LLo2s.b24291

7 synthetic resin nugget shapes are joined by elastic rings beaded in black on the inside, smoky gray on the outside. The resins are clear and smoke, covering painted designs that add colors of black, opalescent pearl, green, aqua, silver and gold. 1 inch wide, choice of lengths (no clasp, stretches a little over the hand).

Lalo Bracelet Amour
$72.00
LLo2c.b24662


Tribal and earthy, the colors of the synthetic resins and painted details are chocolate brown, smoke gray, light amber and ivory. Bracelet is 2-1/2 inches wide, the elements are joined by heavy elastic and crystal beads to fit small/medium wrist snugly (and very comfortable smooth).