Bracelets beaded with gemstones, pearls and glass, in multiple strands are a distinctive look for the wrist. If the components are large and irregularly shaped, it can be a chunky ethnic look...or if they are smooth and matched for size, it is old-world classic.

We have selections from a few of our artists shown below. To see more work by any artist represented, you may click on the Item Title, then click where indicated to get the full artist page!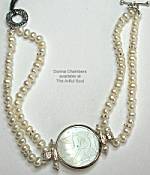 Donna Chambers SS Round Pearl Bracelet
$329.00
DC1h.ssbr55p


5/8 inch circle of ANTIQUE CARVED MOTHER-OF-PEARL GAMBLING CHIP is framed in sterling silver and attached to doubled strands of 5mm WHITE PEARLS. Toggle clasp closes at 7 inches long, designed to be worn snug. The delicate carving is a pair of birds, so lovely!