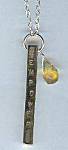 Searcey Designs Birthstone Bar™ November
$80.00
Sd1x.nov.cit


Sterling silver bar is 1-5/16 inches long, suspended from ring and 16 inch chain. Each pendant has words on 4 sides, and logo tag on the back with lobster clasp.
November is CITRINE
REASON
INSIGHT
CLARITY
EMPOWER

The Touch 14kt Citrine Necklace
$229.00
TT1a.g5144cit.cit


14 karat yellow gold and vivid dark yellow CITRINE in this simple necklace.   Citrine is 6mm in size, captured in open-back bezel that flares slightly outward toward back.   Suspended from delicate 16 inch gold chain.

Zoe B 14kt Citrine Turquoise Earrings
$235.00
ZB1c.e7030citq


14kt yellow gold setting surrounds a sparkling faceted oval CITRINE, about 11x9mm with open setting to let light through the back. CHINESE TURQUOISE beads dangle below, earrings are 1-1/4 inches long on shield-front leverback earwires.

Zoe B 14kt Charmed Citrine Earrings
$250.00
ZB1s.e4944cit


15x10mm faceted pear-shaped CITRINE in clear honey yellow is captured in 14kt yellow gold, open in the back where stone extends to catch as much light as it can! Five shiny gold disks flutter endlessly below. Very lightweight. 1-1/2 inches long on gold leverback earwire with shield detail at top.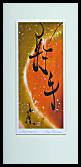 Sybil Shane Print Sagittarius
$38.00
Syb1T.pzsa


6x12 print, taped under glass and ready to hang. From the "Sacred Zodiac" series. Exposed image under matte is approximately 3.5x8 inches.
Sagittarius, November 23-December 21. On the back, "Honest and jovial, Sagittarius is the archer whose arrows never miss their mark. It is the higher mind bent on discovering all the Universe can contain. A benevolent teacher."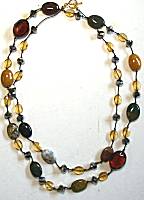 Sun Designs Amber/Earth Long Knotted Necklace
$70.00
Sun1c.cn3516


36 inches long, with golden metal toggle clasp, you can wear long or doubled (as shown). Dark brown silk cord is knotted around gemstones, crystals and beads. You can see jasper in natural honey yellow, green adn brown tones, faceted citrines, crystals in tortoise and silver colors. Largest component is about 5/8 inch wide.