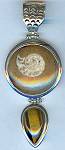 Fossil and Tigers Eye Pendant
$117.00
Fos1h.ig207s


Pendant in sterling silver measures 1-1/2 x 3-5/8 inches including the large fancy bail. The round stone is a FOSSIL, revealing a nice ammonite in chocolate brown background. A TIGERS EYE stone is attached by hinge below in golden brown colors.

Ammonite Smoky Quartz Pendant
$123.00
Fos1f.ig107p34


AMMONITE, a fossilized nautilus shell section, is polished shiny in shades of brown. set in sterling silver, there is a large faceted oval SMOKY QUARTZ in rich browns at the center, and CITRINE in light yellow at the bottom. 1-1/8 inches across, 2-5/8 inches long including large bail.

Septarian Ammonite Pendant
$96.00
Fos1c.ig107p5


Jewels formed ages ago are blended into this pretty pendant of sterling silver. The largest piece at top is SEPTARIAN, a polished section of a nodule formed on the ancient sea floor (Utah) 50 million years ago. It is rich shades of brown and cream from calcite and aragonite. At center is AMMONITE, the fossilized nautilus shell in brown with polished surface. At at the bottom is AMBER, a pretty yellow color from the Baltics. Pendant is 1.25 inches across, 2.75 inches long including large bail.

Charles Albert Fossil Dinosaur Earrings
$70.00
Chs3z.610e8b


1-3/4 inches long on sterling post at the top of the oval, a long cabochon of FOSSIL DINOSAUR BONE is polished with lovely patterns in shades of dark brown.

Charles Albert Fossil Coral Earrings
$75.00
Chs3x.610e5


1-5/8 inches long with silver oval and post at top, cabochons of FOSSILIZED CORAL captured in sterling bezel dangle below. The coral is a soothing orbicular pattern of gray and taupe.

Charles Albert Crinoid Fossil Earrings
$75.00
Chs3y.610e8a


Triangular stone cabochons have the distinctive feathery pattern of CRINOID FOSSILS, though not enough showing to recognize the sea creature in ful. The colors are deep brick red and black like mahogany. Set in sterling silver, dangling from flat ovals with post at top, 1-3/8 inches long.