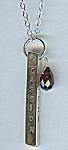 Searcey Designs Birthstone Barô January
$80.00
Sd1x.jan.gnt


Sterling silver bar is 1-3/16 inches long, suspended from ring and 16 inch chain. Each pendant has words on 4 sides, and logo tag on the back with lobster clasp.
January is GARNET
CREATIVITY
LOVE
PASSION
LUCK

The Touch 14kt Garnet Necklace
$164.00
TT1h.g5137gnt


Necklace has 3mm round GARNET set into the pendant, which is a 14 karat yellow gold bezel that flares out slightly for larger look. † Comes suspended in delicate 16 inch chain as shown.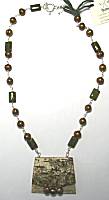 Tessoro Garnet/Pearl Birch Bark Necklace
$260.00
Tso1a.showgc


Multiple layers of the birch bark are revealed in pendant that measures 2 x 1-1/2 inches. It is joined to wire-wrapped link necklace of bronze FRESHWATER PEARLS and mossy green grossular GARNET rectangles. The wire is sterling silver, finished necklace is 18 inches long with toggle clasp.