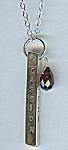 Searcey Designs Birthstone Barô January
$80.00
Sd1x.jan.gnt


Sterling silver bar is 1-3/16 inches long, suspended from ring and 16 inch chain. Each pendant has words on 4 sides, and logo tag on the back with lobster clasp.
January is GARNET
CREATIVITY
LOVE
PASSION
LUCK

The Touch 14kt Garnet Necklace
$164.00
TT1h.g5137gnt


Necklace has 3mm round GARNET set into the pendant, which is a 14 karat yellow gold bezel that flares out slightly for larger look. † Comes suspended in delicate 16 inch chain as shown.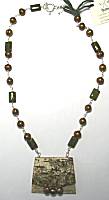 Tessoro Garnet/Pearl Birch Bark Necklace
$260.00
Tso1a.showgc


Multiple layers of the birch bark are revealed in pendant that measures 2 x 1-1/2 inches. It is joined to wire-wrapped link necklace of bronze FRESHWATER PEARLS and mossy green grossular GARNET rectangles. The wire is sterling silver, finished necklace is 18 inches long with toggle clasp.

Mary Asquith Garnet Flower Ring
$60.00
Rng1c.asq31rga.gnt


MARY ASQUITH rings are sterling silver with goldfill wire-wrapped accents and bezel-set cabochons. Bands are stamped with patterns. A 3mm GARNET on goldfill disk rests atop a flower. Band is 1/8 inch wide, size 5.25 adjustable (can be larger).
Sunshine Polishing Cloth
This is one of the polishing cloths we rely on in our shop...the Sunshine® Polishing Cloth! It measures 5 x 7.5 inches, has a light cleaner embedded into it that gets heavier tarnish and dirt. Safe for gold and silver.
Note that the price goes down with quantity purchases!