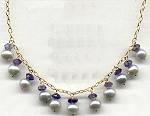 Zoe B Iolite Pearl Necklace
$166.00
ZB1y.n2395io


Rough-cut IOLITE beads are violet-purple color, matched to 5-5.5mm gray pearls. Necklace is simple 14karat gold chain with 11 drops spanning the front 4 inches, finishing to 16 inch length.

The Touch 14kt Iolite Earrings
$223.00
TT1w.g9106io


Deep iolite gemstone, 5mm, is a fabulous substitute for tanzanite at less price.   The color is more blue-violet than an amethyst, rich and clear.   Set in 14k yellow gold, 1-3/16 inches long earring that hooks into itself.
Sunshine Polishing Cloth
This is one of the polishing cloths we rely on in our shop...the Sunshine® Polishing Cloth! It measures 5 x 7.5 inches, has a light cleaner embedded into it that gets heavier tarnish and dirt. Safe for gold and silver.
Note that the price goes down with quantity purchases!