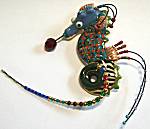 Jewelry 10 Seahorse Pin
$149.00
J101f.v6760


Seahorse has porcelain body sculpted into ornate curling shape, richly patterned with colors of blue, coral, aqua, forest and lime green, along with black and ivory. A crystal bead extends from the mouth, and flexible black wire dotted with beads extend out from its head and back. A long flexible wire curling out from the end of the tail is beaded brightly. Measures 3 inches tall overall, the width with extended wires is 3-1/2 inches. Vertical barpin clasp.

Jewelry 10 Land Turtle Pin
$58.00
J101h.v9815


2-1/2 x 1-3/8 inch porcelain turtle is richly colored in darker tones of brown, blue, green, mustard, black and ivory. Edged in metallic gold, horizontal barpin clasp.

Jewelry 10 Black/Ivory Large CLIP Earrings
$44.00
J101r.e801


Earrings are 1-3/8 inches tall, 1-1/8 inch wide at the bottom, and fairly flat profile. The porcelain is colored black and ivory in various patterns, with gold. CLIP ON style for all ears.
Reviews for Jewelry 10
Reviews for Jewelry 10
5
Average rating:




Read about what others think of Jewelry 10! Instead of reviews for a specific product, this is a place to share about the designer line in general.
Do you own items by this designer already? Then please tell others how it wears, what you like or don't like about it, if you are a fan!
To get started, click on the icon image