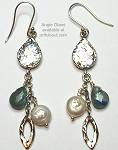 Angie Olami Roman Glass Kyanite/Pearl Earrings
$124.00
Ango1e.810096


2 inches long including sterling earwire, 3/8 inch across. A teardrop setting, open in the back, holds the precious Ancient Roman Glass piece. Dangling below is kyanite gemstone that is blue with silver streaks, white coin pearl, and rustic hammered sterling charm.
Sunshine Polishing Cloth
This is one of the polishing cloths we rely on in our shop...the Sunshine® Polishing Cloth! It measures 5 x 7.5 inches, has a light cleaner embedded into it that gets heavier tarnish and dirt. Safe for gold and silver.
Note that the price goes down with quantity purchases!