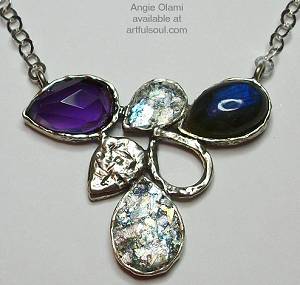 Angie Olami Gemstone and Roman Glass Cluster Necklace
$179.00
Ango1x.830177


A hammered and distressed textured sterling silver setting measures 1-3/8 x 1-5/8 inches, suspended from open sterling chain to wear at 18 inches long, or shorter as you can use spring ring clasp on any link. The cluster holds a large faceted Amethyst stone in upper left, Ancient Roman Glass between that and the large cabochon of Labradorite on the right. At center is a leaf-shape of sterling and open teardrop loop, a larger piece of Ancient Roman Glass glowing at the bottom.
Sunshine Polishing Cloth
This is one of the polishing cloths we rely on in our shop...the Sunshine® Polishing Cloth! It measures 5 x 7.5 inches, has a light cleaner embedded into it that gets heavier tarnish and dirt. Safe for gold and silver.
Note that the price goes down with quantity purchases!