The Touch 14kt Peridot Stud Earrings
$115.00
TT1y.g9129per


3mm stud earrings with PERIDOT above are set in 14 karat yellow gold. Nice match to the necklace.

Jen Christiansen Jasper Peridot Twists
$80.00
Jen1q.er4888


Non-tarnish brass wire is beaded with tiny PERIDOT and bronze beads for loops at the top, then a ring of FANCY JASPER that is faceted in green/golden colors, and a final ring of FRESHWATER PEARLS. 1-1/2 inch across, 3-3/4 inches long on goldfill earwire.

The Touch 14kt Peridot Set
TT1b.g2464
PERIDOT stones measure 5x7mm ovals, cut to dazzle in the light, a brilliant apple green color.   The 14 karat yellow gold open ovals taper from wide to narrow at the top, cleverly capturing the gemstones.   Earrings are suspended from post with curled drop, overall 1 inch dangling length when worn.
Pendant also has the curling bail.
·

The Touch 14kt Peridot Pendant


$152.00



·

The Touch 14kt Peridot Earrings


$314.00


Q Miller Magic Moments Earrings
$53.00
QM3m.pd1279


1-1/2 inches long including sterling earwire, 1/2 inch across. Sweet and light, polished pewter oval with stamped patterns is suspended with curving brass wire, a small PERIDOT swinging in the curve.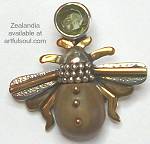 Zealandia Tiny Bee & Peridot Pendant
$68.00
ZL1j.sfgp776n


Tiny bee in sterling silver has 3/4 inch wingspan, measures 3/4 inch tall also including the faceted PERIDOT gemstone on top. Bail ring is hidden in back. Fossil ivory makes up the bee's body, golden accents and granulation add character to the setting.