Reviews for Petrified Forest


Read about what others think of Petrified Forest stoneware! Instead of reviews for a specific product, this is a place to share about the designer line in general.
Do you own items by this designer already? Then please tell others how it wears, what you like or don't like about it, if you are a fan!
To get started, click on the icon image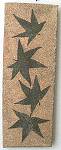 Petrified Forest Wall Panel or Tray
$60.00
PF1c.616c
[ SOLD ]

15 x 5-1/2 inches, the piece is striking in its simple shape and lovely leaf motif. A rectangular wood frame in the back raises the thick stoneware clay off the surface. You can hang it on the wall horizontally or vertically! You can use it on the table as a tray for your hottest pot, cheese and crackers, or candle display. Beautiful versatility.

Petrified Forest Bowl
$24.00
PF1h.gbbowlc


Bowl measures 7 inches across, 1 inch deep. Eat or serve from it, the rough stoneware texture and real leaf impression highlighted by colored glaze, make it a unique experience. Dishwasher safe.