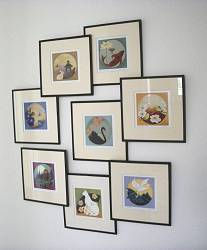 This is a beautiful way to hang several Sybil Shane prints on your wall...overlap them! It gives you a dimensional art piece. Shown are 9" square taped prints. The "top" layer pieces are hanging from nail that can extend out from wall a little more than the picture-hangers holding the "under" layer.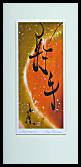 Sybil Shane Print Sagittarius
$38.00
Syb1T.pzsa


6x12 print, taped under glass and ready to hang. From the "Sacred Zodiac" series. Exposed image under matte is approximately 3.5x8 inches.
Sagittarius, November 23-December 21. On the back, "Honest and jovial, Sagittarius is the archer whose arrows never miss their mark. It is the higher mind bent on discovering all the Universe can contain. A benevolent teacher."

Reviews for Sybil Shane


Read about what others think of Sybil Shane Studios prints and cards! Instead of reviews for a specific product, this is a place to share about the designer line in general.
Do you own items by this designer already? Then please tell others how it wears, what you like or don't like about it, if you are a fan!
To get started, click on the icon image