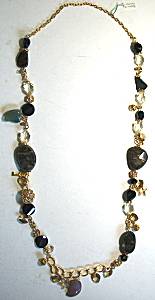 Zenobia Dazzling Black Long Necklace
$112.00
$89.60
On Sale!
Znb2a.n101blk


Elegant and bold, this is a 38 inch long necklace, no clasp, just slip over the head. Sections are built on golden wire, joined together and with goldplated chain. This is a substantial piece as it features larger gemstones and beads. The largest pieces are the greyish-brown agates, 1 inch across, irregularly shaped, flat and polished just on the top surface, the sides are rough rock and imperfect like nature. At center bottom is a dangle of another polished stone that looks like perhaps rhodonite in a soothing mauve color. There is also a green aventurine (or similar) stone dangle, jet black and clear crystals, rhinestone clear/gold balls, champagne crystal stars and hearts.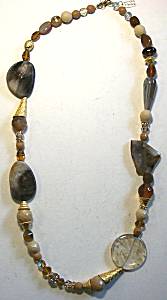 Zenobia Chunky Long Golden Necklace
$98.00
$78.40
On Sale!
Znb2d.n103lban


30 inches long, this is a bold and substantial necklace, highlighted with goldplated findings to lend a dressier and elegant look. Lobster clasp in back, beaded on wire. The large gemstones we can only guess at what they are, as they are extraordinarily unique! The largest pieces are flat and about 1-1/2 inches across, a rutilated quartz, and gray marbled agates that are slightly faceted and polished on the top, with sides unfinished and imperfect rock. There are goldplated beads with satin finish that remind of Columbian art. There are crystals in colors like honey amber and champagne, rhinestones sparkling clearly from gold.

Reviews for Zenobia


Read about what others think of Zenobia purse charms and necklaces! Instead of reviews for a specific product, this is a place to share about the designer line in general.
Do you own items by this designer already? Then please tell others how it wears, what you like or don't like about it, if you are a fan!
To get started, click on the icon image